The NBA season is just six games old, but for the Knicks it feels nothing like the start of a season should feel. Excitement? Gone. Suspicion? Gone. Belief? Gone. Instead, the panic mode has already set in.
The 7 - "this is really bad" - probably sums up pretty good, what we have seen so far. Thinking about where Knicks fans on the fanpage stand, I would say between 4 - "alarmed" - and 10 - "we're dead" - every position is represented, so the middle of that seems to be just right.
What amazes me, how nothing fits together. That goes from the roster pieces up to how the management seems to see where the Knicks stand. You can bet, that Glen Grunwald was a believer in this roster, a believer that he made the right moves to build on last season's success. His boss, James Dolan, seemed to be on board with him when he reportedly declared before the season that he expects the championship this year. When you look at how the Knicks have performed so far, the only one that doesn't seem to believe in the execution of the plan over the summer seems to be coach Mike Woodson, who doesn't seem to have figured out what exactly to do with this roster. Yet, what happens right before the season? Dolan fires Grunwald and replaces him with Steve Mills. Makes sense, right?
Or is it that Woody believes in this roster, but the players don't? Whatever the case, the pressure is already on in NY. That the Nets have the same record at this point, is no consolation for frustrated Knicks fans.
Are there any positives so far? From a team standpoint, I don't think you could make a case for any positives. From an individual standpoint there are not a lot of positives, but let's go through the few there are.
- Tyson Chandler had a fantastic start to the year, before he broke a bone in his right leg.
- Metta World Peace has come in and shown that he can be "a great piece of the puzzle", as Woody likes to say, with his intensity, his will, his leadership, his defense.
- Pablo Prigioni has been sharp with his shot so far - but hasn't shot enough to have a real effect on how things are going.
- The same could probably be said about Iman Shumpert. After shaving his afro, I like what I have seen so far when it comes to his shot selection and shot execution, though on the other side some are frustrated by his lack of shots taken and by some defensive miscues including some very stupid fouls.
Negatives on the other hand are all over the place. So far we have seen one of the worst home losses in Knicks history against the Spurs, a 40 points allowed first quarter at home against the T'Wolves - of course leading to a loss - and a home loss against the lowly Bobcats. Tyson Chandler is out with said broken leg for 4-6 weeks. Raymond Felton and Carmelo Anthony have shot the ball poorly, Andrea Bargnani - despite some flashes of offensive potential - and Amar'e Stoudemire - who sadly just seems like a caricature of his former self - have been the defensive liabilities we feared and then there is JR Smith who first served a five game drug related suspension and then came out with a horrible first outing highlighted by his fingerroll airball.
In summary, at this point: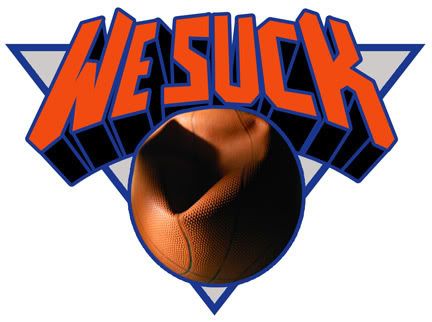 So what now? Already hit the panic button? Or preach patience? Whatever way you tend, one thing is for certain: if Woody and crew don't turn it around quickly, it won't be long until he gets shown the boot. Because of the offensive results Woody's Knicks have had in both of his playoff appearances with the team and early on in this regular season it wouldn't be without reason. The question then will be: who walks through the door to save the day/season?
Next up are games this week against Atlanta (twice, Wednesday and Saturday) and Houston (in between on Thursday). If the Knicks still let opponents drive through their initial defense on the perimeter like a hot knife through butter, especially the game against the high scoring ability of the Rockets could get ugly.